Tyler McDermott Takes 1st Place with MASSFX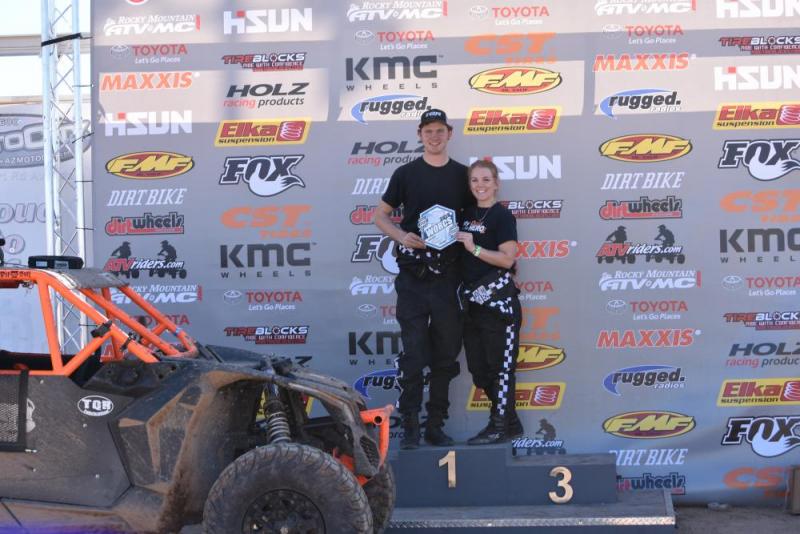 A couple of articles ago, we talked about the WORCS Off Road Racing series and our sponsored SXS racer, Tyler McDermott. In that article we said we believe Tyler will have a very successful season. Well he hasn't wasted anytime in making that statement a reality! This past weekend in round 2 of the WORCS racing series, Tyler brought home 1st place after a tough race in Peoria, AZ. The 8-mile course had plenty of obstacles for Tyler and his co-driver, Brookelyn Williams, to overcome. Throughout the race, Tyler had to deal with cacti, technical corners, whoop sections, jumps and even barbed wire! He did find himself in a little bit of a "sticky" situation after he hit a cactus but he pulled through and kept on truckin'! After two races, the tires are still in near perfect condition with only slight rounding on the outside of the tread. Most of that is due to the pavement (which is tough on ATV/UTV tires) that was on the first course.
Here is a photo of the tires after two races. Clean the dirt off and those tires are in excellent condition.
When we talked to Tyler more about how the tires handled, this is what he had to say. "The tires did great! They handled and cornered very well at speed… when I was hitting top speed at around 75-85 MPH, the vehicle handled just fine even though I was in a loose desert terrain." Once again, Tyler proved that our VY tires handle great in desert environments.
These tires handled great at high speeds and in the technical sections (pictured above).
Loose dirt isn't the only problem with driving in the desert though. Rocks, boulders and potholes will test just how tough a tire is. When we asked how our tires held up against the tough desert, he responded with, "There were a few times I drove through or over something that I knew I probably shouldn't have... On one section of the course I hit a nasty hole about a foot deep and knew as soon as I hit it that I blew a tire. I radioed my crew to check it out next time I passed them and when they did, there was nothing wrong with the tires… One of the competitors hit a fence at one point and threw barbed wire across the track. I had no choice but to drive across it and I did without getting even one flat."
Tyler left this competitor in the dust, literally!
This photo also shows how rocky and tough the desert terrain is.
To say the least, we are very impressed with how well our tires have performed so far. With as impressed as we are with our tires, we're even more impressed with the performance of Tyler. We know that with him on our team, MASSFX is being represented extremely well! Keep up with us on social media for more updates, pictures and videos of Tyler's races.
So if you want to be like Tyler and start "Doing Fun Right," start with MASSFX.