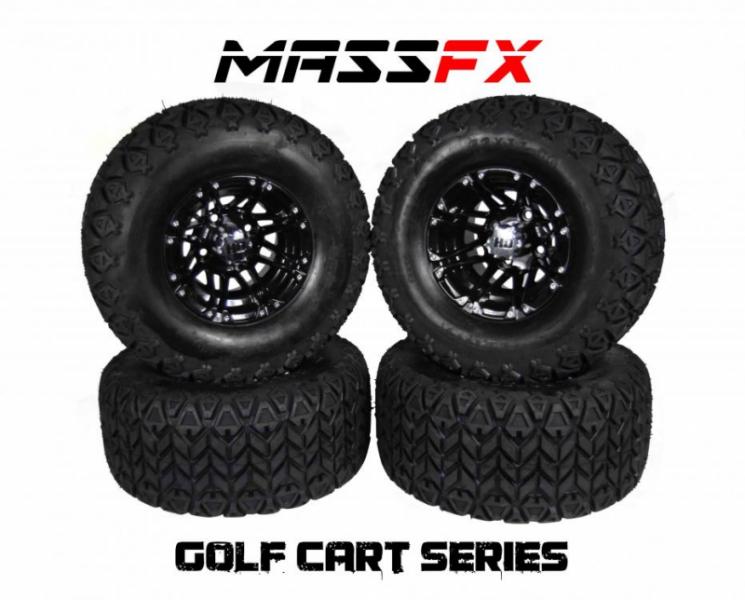 Lifted trucks, rock crawlers, lifted ATVs and lifted golf carts. Wait, lifted golf carts??
Yes, it may seem unconventional, but it's becoming more and more popular customize or "trick-out" your golf cart.
Golf carts typically don't come to mind when you think of big tires, flashy wheels and lift kits; however, that's exactly what owners are starting to outfit their carts with. But Ethan, aren't golf carts just for golf courses and old people in retirement communities? Not as much as you'd think. Golf carts are much more versatile than most realize. They're used for jobs such as maintenance upkeep, recrational tours, warehouse/industrial transport and medical transport. 
Most larger hotels, resorts and theme parks have large parcels of land that need to be kept up. Golf carts have been used for many years as maintenance vehicles for groundskeepers everywhere.
 These are the vehicles that enable the maintenance and landscape workers to keep resorts and parks looking spectacular.
When it comes to places like nature parks, zoos, safaris, or similar attractions, walking the whole thing would be very time consuming and physically taxing. That's where golf carts come into play. There are so many resorts, ranches and nature parks that use golf carts that can hold up to eight passengers for guided tours. 
Whether it's a tour through Europe's cityscape or the countryside, golf carts can get you there.
There are some companies that are large enough, it would take you a day and a half, figuratively speaking, to walk from one end of the warehouse to the other. Without golf carts, merchandise and employees would be slowed down tremendously, which in turn slows down productivity.
Just don't let the new guy drive the cart around the warehouse.
We've all seen someone get hurt while watching football, baseball, soccer or some other sport on TV. And how many times have you seen said person get wheeled out on stretcher straped to the back of a golf cart? My guess is quite a few. 
It's not as nice as an ambulance, but it'll get the job done in a pinch.
So if golf carts can be used for all these different purposes, what makes you think that someone can't put flashy wheels, bigger tires and a lift kit on one? That's what I thought, you don't have a good reason. Speaking of golf cart tires, we just launched our new line of aggressive (and non-aggressive) golf cart tires. These tires are perfect for stock or lifted golf carts and are guaranteed to catch your neighbor's attention. So head over to http://massdepot.com and give them a gander.
Remember folks, ride hard, ride safe and always keep "Doing Fun Right."