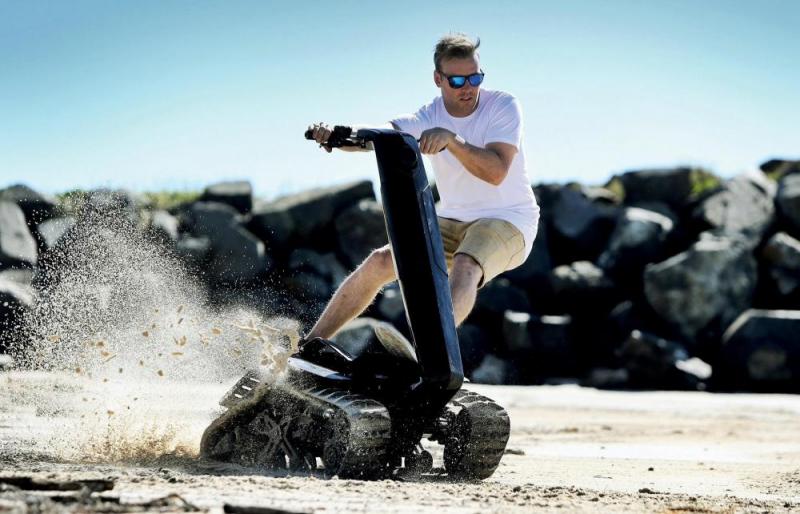 The DTV Shredder is an off-road vehicle like no other. This one man vehicle was built to handle a variety of terrains. It's very similar to an old school stand-up jet ski, for the land of course. It serves the same purpose as an ATV, getting you off the pavement and to places where a regular vehicle could not. But it does this in a completely different style. So, let's dive in to the Shredder!
The dual tracks with 1-inch lugs provide exceptional traction in all terrains.
The track system is impressive feat in itself. The Shredder utilizes a rear drive mechanism opposed to a front drive mechanism. This helps keep the tracks planted firmly on the ground. The middle suspension is another "shocking" feature. The "X" shaped suspension allows the track to conform to almost any surface. This also removes track vibration. The Shredders track system allows it be very maneuverable at both low and high speeds.
As you can tell, the 208cc engine provides plenty of power.
The engine in the Shredder is very powerful for a vehicle of its size. It has a 208cc engine that has the power to move its tracks at an impressive 30 mph. This engine also provides an impressive towing capacity of 500 lbs. Some of the engine's features include a custom designed exhaust, an oil cooling system and an electronic carburetor. Put all of that together, you get a large power band and an impressive 15ft-lbs of max torque at 5400RPM.
The Shredder is clearly a versatile machine that can handle multiple terrains and conditions.
Don't let the handle bars fool you, those are just there to house the throttle and offer you greater stability. The steering is all in you feet. If you want to turn left, lean to the left. If you want to turn right, lean to the right. It's as simple as that. This is thanks to DVT's patented Dual CVT Transmission. The riders body movements actuates the transmission and causes each track to turn at different rates.
More information on the DTV Shredder can be found at https://www.dtvmotorcorp.com/